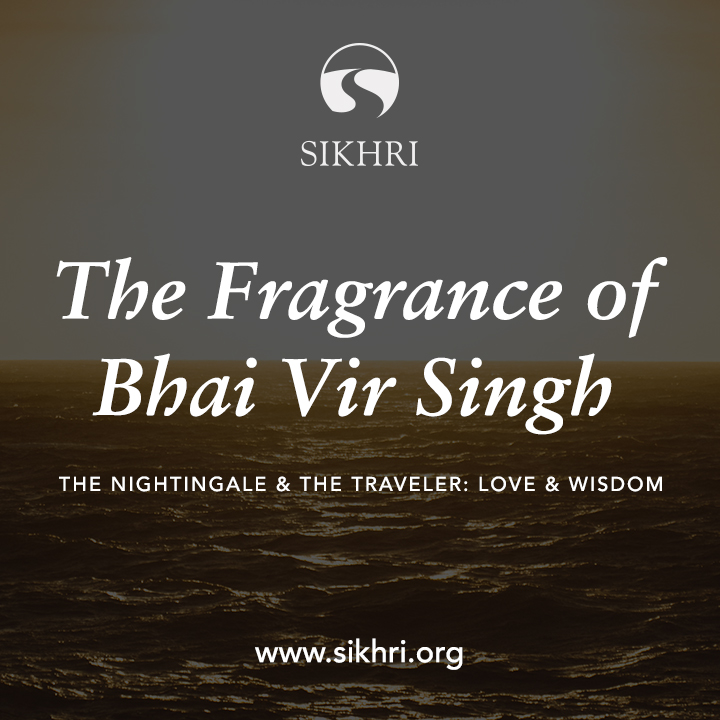 Many have come into my life and have barely left a trace. Less than a handful have entered my cautious heart. These amazing beings have lifted my consciousness, enabling me to rise. It is as if fate had a hand in bringing us together. My life is richer because of them, I cherish their friendship.
And then there are relationships that defy time, space and logic. Such is my relationship with Bhai Vir Singh (1872-1957). I have never met him, yet there is a nearness so intense that I address him as "my Pita ji." How did that happen? Well, it was through his writings. He enabled me to see Guru Nanak Sahib and I fell in love. 
Pita ji now ebbs and flows in my consciousness. His writings open vistas within me, transporting me to another realm. What transpires while translating his works cannot be put into words. Some things are best left unsaid.
In translating his poem "The Nightingale and The Traveler," I have taken many liberties. The purists will scream: "She has sinned. She must be excommunicated." The lovers will say: "She has loved. We embrace her."
I leave it in your hands to judge: Have I sinned or have I loved?
The translator Inni Kaur is the CEO of the Sikh Research Institute. She is also the author of 'Journey with the Gurus' series, 'Sakhi-Time with Nani ji', 'Thank You, Vahiguru.,' and 'Daddy's Turban.'
This series is supported by the generosity of an admirer of Bhai Vir Singh's writings.